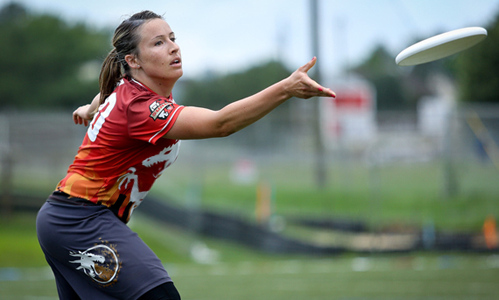 | | |
| --- | --- |
| Height | 5'7" |
| Age | 31 |
| College | University of Minnesota - Duluth |
| Hometown | Chaska, Minnesota |
---
Years On Drag'n Thrust
Bio
Alicia's love affair for Frisbee began at an early age. Like so many 70's Flower children Alicia's Dad was a master with the disc. As a young daddy's girl she spent many summer afternoons throwing. So naturally when she showed up at her first Ultimate Frisbee practice the second semester of her freshman year it was love at first pull. Instantly feeling welcomed by the Duluth Ultimate community she learned to play with the college men of Northern Lights and the small handful of women that made up the very beginning of women's Ultimate at University of Minnesota Duluth.
Her Sophomore year Alicia was determined to build strong team and a lasting program. With the help of many in the community and the small group of strong women LakEffect had begun. It took a year for the program to get running but with the hard work of a dedicated few, LakEffect made its first appearance at Sectionals in 2006. They were seeded last in the section but lost to Carlton in the finals by only 3 points.  Alicia had a memorable Ultimate experience at UMD among the handful of accomplishments made by LakEffect Alicia was selected by her peers for the All Region team in 2006, 2007 and 2008. Although she was honored her greatest accomplishment in college Ultimate will always be the opportunity to say that LakEffect is still a competing team.
In 2005 Alicia took her first dip in the pool of Club Ultimate and had a blast playing with Giddy-Up, a small conglomerate of young and seasoned players out of Duluth. The following year after a beer or two and a conversation with now long time teammate Dave Klink, Alicia went to her first real Ultimate tryout for Flaming Moe. Absolutely shocked to make the team Alicia was given her first opportunity at high level club ultimate. That year was Alicia's first taste at Nationals. Her heart has always belonged to Co-Ed Ultimate and she has been playing with the Twin Cities contingent ever since. Now a seasoned veteran of the Co-ed community Alicia has been honored to play at the National tournament with them in 2008, 2010, 2011, 2012 and 2013.
Having played with DNT since its inception in 2011 Alicia is very proud to call herself a Drag' n. Her love affair for Ultimate continues with her ever infatuation of the game and never ending love for her teammates.