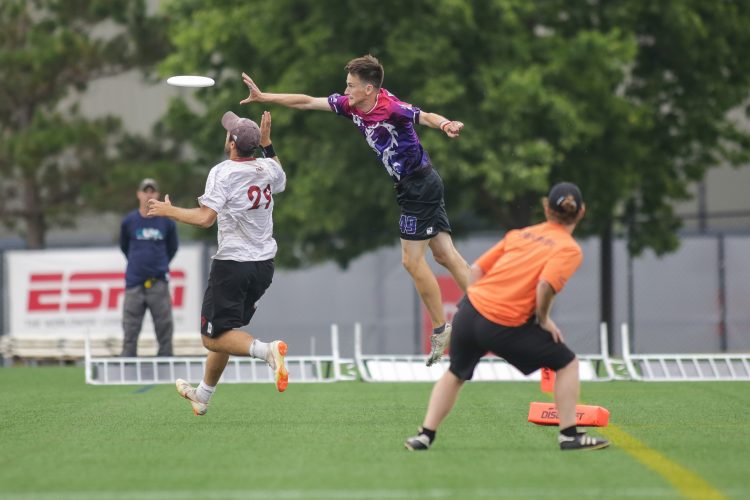 Caleb Denecour
#49 Utility

| | |
| --- | --- |
| Height | 5'9" |
| Age | 32 |
| College | Canada College |
| Hometown | Redwood City, CA |
---
Years On Drag'n Thrust
Bio
Caleb started playing competitive sports at the age of 4 with the majority of the time spent participating in track & field, cross country, volleyball, and football. In high school, he grew tired of the lack of sportsmanship his coaches displayed and ventured away from traditional sports and into the world of eSports. Caleb spent a lot of time competing in Halo 2 where he found moderate success. At its peak, his team was ranked top 32 in the world. In 2007 they competed in MLG San Diego, but Caleb skipped the event to attend his first-ever ultimate tournament.
In fall 2006, as a freshman in college, Caleb and his hallmate were walking back to the dorms when they saw a group of 40 people playing something with a disc. Unsure of what was happening, they stopped by and ended up joining the chaos. After experiencing barefoot 20v20 ultimate, Caleb wasn't very impressed. However, someone approached him and his hallmate and asked them to come play again but bring cleats. Caleb reluctantly promised his hallmate he'd attend with him.
Later that week, Caleb was in the middle of Halo 3 practice with his team when his hallmate came through the door, ready to play some ultimate. Caleb, not being one to break a promise, left his practice, grabbed his cleats, and went to the intramural fields. Upon arrival, they saw people warming up, throwing, and wearing jerseys. After cleating up themselves, the person who invited them brought everyone together and welcomed them to the first practice of the season for Colorado State University Hibida. For whatever reason, Caleb ended up dropping his much more lucrative gaming career to pursue a sport he'd never heard of. His hallmate never attended a second practice.
Since then, Caleb has played for a variety of teams and competed in six different countries. At the 2014 World Championships, he won the Spirit Award while competing with Mexico Slash.
Team History:
Colorado State University Hibida B-Team (College Men)
University of Colorado Mamabird (College Men)
San Francisco Journeymen (Club Men)
Austin Doublewide (Club Men)
Mexico Slash (2014 WUCC and Mexico Club Mixed)
Austin Cosa Nostra (Club Mixed)
Austin Sol* (AUDL Men)
Minneapolis Sub Zero (Club Men)
Minnesota Windchill* (AUDL Men)
Minneapolis 
Drag
'
n
 Thrust (Club Mixed)
USA Nation Team – Mixed (2020 WUGC & 2021 WUBC)
DC Descent (Master's Mixed)
*Caleb left the AUDL and is actively boycotting the league