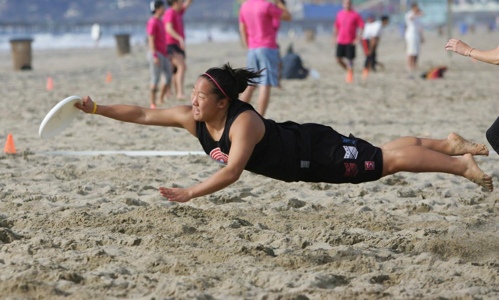 | | |
| --- | --- |
| Height | 5'1" |
| Age | 24 |
| College | UC San Diego, UCLA |
| Hometown | Los Angeles, CA |
---
Years On Drag'n Thrust
Bio
Southern California, born and raised, Chip recently moved north of the Wall to start pursuing a doctorate in American Studies at the University of Minnesota. Everyone warned her about winter (lies!) What they didn't warn were the hot summer months. Nicknamed a "baby furnace" by some, the summers for Chip will be the real challenge.
Currently in graduate school, Chip spent all of her college eligibility years ago attending UC San Diego from 2009-2013 as a Psycho, and then UCLA from 2013-2015, receiving her MA in Asian American Studies, and ultimate. Many say Chip is only going to school because the school year lines up perfectly with the ultimate season… and it's true.
In 2009, Chip was born and no one has called her anything else since, other than Chipadelphia, Chipster, and Chipotle, to name a few. She played her first year on UCSD's B-team Berserk, then followed that with 3 years on the A team, captaining the Psychos her senior year – Psycho! You know! She used her 5th year of eligibility playing for UCLA BLU as a "transplant," attending College Nationals for the first time in 2014 where BLU broke seed and finished 8th (tied for, but whatever) and was a Top 10 Callahan nominee. During her time in Los Angeles, she also played for two years on the women's club team Viva and most recently the mixed team 7 Figures in 2015. After moving to Minnesota, Chip may have gone through one of the longest tryout process for Drag'n, beginning with Dragn's international appearance in Mexico for PAUC in November and later in Colombia for TEP in May.
Chip is really good at finding patches of mud on an ultimate field while wearing her white jersey, giving teammates piggy back rides on her "broad shoulders," photobombing team photos of her alma maters, face planting, and hanging the o. Fact: Despite this photo, Chip has a disdain for playing beach ultimate.