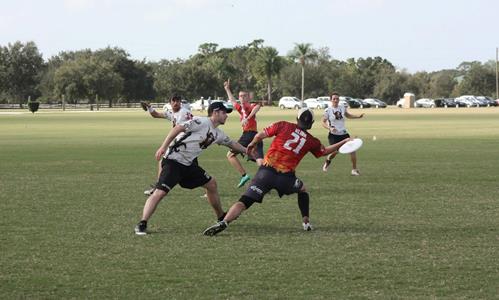 | | |
| --- | --- |
| Height | 6'0" |
| Age | 31 |
| College | St. John's University |
| Hometown | Oak Park Heights, Minnesota |
---
Years On Drag'n Thrust
Bio
Dave Klink began playing Ultimate in a past millennium with the Stillwater High School running team.  He continued with a local barefoot pickup group after school.  Once he arrived at St. John's University, he promptly reported to Ultimate practice.  He went on to captain the SJU team his junior and senior years.  He began playing club mixed with Flaming Moe in 2002, and he played with the team each season through 2008, captaining about half of those years and qualifying for Nationals in 2006, finishing 9th.
He got involved with the Twin Cities Ultimate League and joined the Board of Directors, helping to revamp the draft system in the process.  He coached the next generation of Minnesotan talent on the Youth Club Championship team for 3 seasons and he coached the Cretin Derham Hall girl's team.  After Moe folded, he joined up with Peppermint Bon-Bon and took another trip to Nationals, finishing 13th.  He also became a Sectional Coordinator for USA Ultimate and was later promoted to Regional Coordinator, helping to run the club series in both roles.
In 2009 he dispatched an ACL issue and started playing with a new team which came to be known as Drag'n Thrust.  He went on to captain the team to its first and second trips to Nationals in 2010 and 2011, finishing in semifinals and 9th, respectively.  He joined the Board of Directors of Minnesota Youth Ultimate and became vice chair of the board, helping to usher in a new competition structure.  He was also promoted again at USA Ultimate to National Director of the mixed division.  He continued to play with DNT in 2012 and 2013, inheriting the position of "old man" thanks to the retirement of some even older people, finishing in semifinals at Nationals in 2012 and winning a National Championship in 2013.  Dave's day job is as a business litigation attorney, and he lives with his wife Stacy and their dog Sophey.