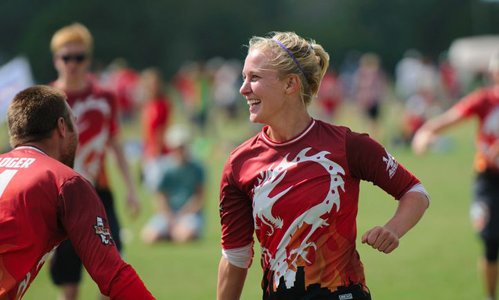 | | |
| --- | --- |
| Height | 5'7" |
| Age | 26 |
| College | Pomona College |
| Hometown | Golden Valley, Minnesota |
---
Years On Drag'n Thrust
Bio
Erica Baken started playing ultimate in 8th grade as a part of Hopkins High School's mixed team and helped the women there branch off in 2004 to form one of the first women's high school teams in the state. She captained at Hopkins for 4 years while playing soccer year-round and played on Minnesota's YCC teams during the summers.
In 2007, she made her debut in the club scene with many current Drag'n players on Flaming Moe and then again in 2008 with the CLX-Moe combo team, Alpha Cobra Squadron (3rd at Club Nationals). In 2008, she also made the USA junior worlds team and competed in Vancouver, BC, where the team took 3rd. That fall, she started college at Pomona College and joined the 5-school consortium team, the Claremont Greenshirts. She was voted captain her sophomore year and continued to captain through her senior year, when the team won D3 nationals in Appleton, WI.
She also played on an Oregon-based women's team, Further, in 2011 and helped them qualify for Club Nationals in their second year of existence. After college, she returned to Minneapolis and started playing with Drag'n in 2012. After spending a number of months working as a Biologist in Alaska, she returned to Minneapolis to play another season with her beloved Drag'ns!!