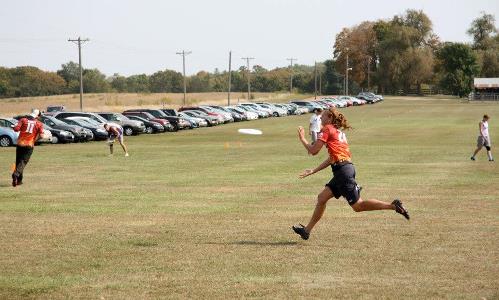 | | |
| --- | --- |
| Height | 5'6" |
| Age | 25 |
| College | University of Wisconsin-Eau Claire |
| Hometown | Hartland, Wisconsin |
---
Years On Drag'n Thrust
Bio
Jess Haller was born and raised in Milwaukee, Wisconsin. As a high school athlete she lettered in track, cross country, and basketball. In 2007 she attended the University of Wisconsin – Eau Claire, majoring in Kinesiology-Human Performance. Her Ultimate career began as a freshman with the ladies of Eau Claire Sol. Through her five year career she developed into an exceptionally skilled player and was selected as a 2nd Team All-Region player at the end of her senior season. She returned to coach the program the following year.
Jess began playing club ultimate in the mixed division in 2008 with Milwaukee Beast. She continued her development with N.U.R.D in 2009, Hexxus in 2010, and would captain the Kamikaze Snow Leopards out of Eau Claire, WI in 2011. Jess was selected to join Minneapolis' premier mixed team, Drag'n Thrust, in 2012. In 2013 she helped the team claim their first National Championship! Jess could not be more excited to be a part of the Drag'n family. Through the 2013-2014 off season she remains focused on an even greater goal, to make Drag'n Thrust the last team standing at the 2014 World Ultimate Club Championships in Lecco, Italy.
Jess is a hard working athlete as well as a committed student. While she prepares for the 2014 season she is continuing her education in Minnesota to become a certified Occupational Therapy Practitioner.