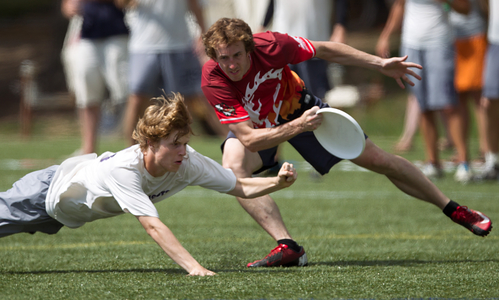 | | |
| --- | --- |
| Height | 5'10" |
| Age | 38 |
| College | St. John's University |
| Hometown | Richmond, Minnesota |
---
Photo by f/go
Years On Drag'n Thrust
Bio
Josh "Shwa" Hemmesch was born in Richmond, MN. He graduated from St. John's University with a major in Computer Science. He began playing Ultimate his freshman year, after attending a round of pick-up the first week of class. After falling in love with the sport of Ultimate, he left Track & Field (hurdles and 4×400) behind. Playing all four years, Shwa captained for two years, helping St John's earn an invite to the first ever D-III National Championships in Versailles, OH.
Starting his Club career in 2004, Shwa practiced with mixed team Flaming Moe, before studying abroad in Australia for a semester. After three years on the roster, he captained Moe in 2007, and Alpha Cobra Squadron (combination team with numerous CLX'ers) in 2008. That same year, Shwa was promoted to his first Supervisor position within Support Programming at MEDITECH, where he still manages today. After one year with open club team Sub Zero in 2009, Shwa returned to the mixed division with Drag'n Thrust in 2010.
With his contagious smile and meaty calves he wooed his way into a captain role for Drag'n Thrust in 2012 and 2013. Participating on a fun-loving, hard-working team that battled their way to a championship was extremely rewarding for him. Shwa cannot wait to experience Italia with his fellow Drag'ns!
2021 and 2022 Coach