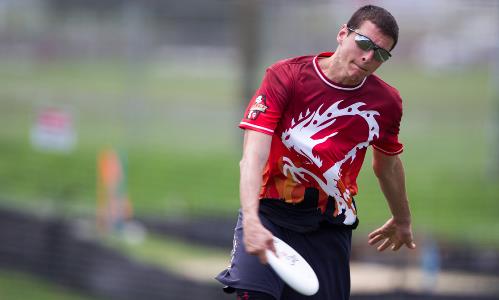 | | |
| --- | --- |
| Height | 6'1" |
| Age | 31 |
| College | University of Minnesota |
| Hometown | Boston, Massachusetts |
---
Photo by f/go
Years On Drag'n Thrust
Bio
There are few people who enjoy playing ultimate quite as much as Mike Petersen does. Born in Oregon, raised in Boston and finally spending formative years in small town MN, Mike started playing ultimate recreationally in 2000 while attending the University of Minnesota, Morris.
He didn't start playing high level ultimate until 2008 with the mixed team Peppermint Bon Bon. After that, he played for both Drag'n Thrust and Sub Zero, while ultimately coming back to Drag'n in 2013. He also spent 2013 playing for the Minnesota Wind Chill professional team along with many other Drag'ns.
His college ultimate career started at the University of Minnesota Veterinary School since he never used college eligibility during his undergraduate education, making him one of the oldest players to qualify for the college championships at 28 in 2010.
Off the field, Mike is a general practice veterinarian in Minneapolis, and spends a lot of quality time with his wife Erin and 9 month old baby girl, Hazel (and 3 cats, a snake and some geckos).