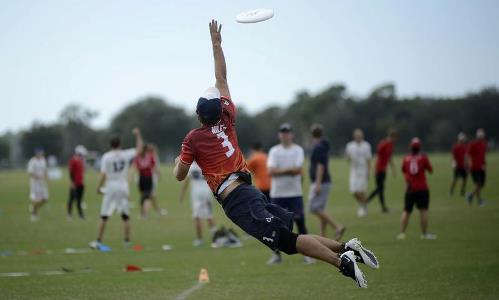 | | |
| --- | --- |
| Height | 5'10" |
| Age | 37 |
| College | University of Wisconsin - Eau Claire |
| Hometown | Eau Claire, Wisconsin |
---
Bio
Getting Schooled: Pat started playing ultimate at the highest level possible…in high school…in Eau Claire…in a newly founded intramural league at Memorial High School. Alright, so maybe it wasn't the highest level possible, but the consecutive intramural championships in 2001 and 2002 foreshadowed an illustrious and fulfilling ultimate career. After winning in intramurals, Pat co-founded Unreal, the first Eau Claire high school team. In 2002, he successfully graduated high school and made a huge geographical leap to attended post secondary education at the prestigious University of Wisconsin – Eau Claire, where he studied biology. He played on EauZone from 2002-2007 and captained during the 2004-05 season. For the 2005-06 college season, Pat played with University of Minnesota – Duluth Northern Lights.  In 2006, he returnend to UWEC to finish out his college career captaining and playing for EauZone.
The Club Scene: In 2006, Pat wanted to try his hand at mixed ultimate and decided to pursue a cutting position with Flaming Moe. His ability to repeatedly break Mike Berseth in a drill is the only reason his club ultimate career ever started. Luckily for him he secured a spot on the team and ended up carrying Flaming Moe to their first Nationals birth. Pat played on Flaming Moe for the 2006 and 2007 seasons. In 2008, Alpha Cobra Squadron (ACS) was formed from a contingent of The Chad Larson Experience (CLX) and Flaming Moe players and Pat was invited to join, once again carrying this team to a National Championship appearance.  ACS disbanded in 2009, after the Minneapolis crew decided they didn't like Iowans, and Drag'n Thrust was born.  Pat has been a Drag'n ever since.
International Competition:  Pat won gold at the 2010 WFDF World Ultimate Club Championships playing with CLX.
Passing on Knowledge:  Pat has been very fortunate to have the opportunity to spread his knowledge of ultimate to a few high school and college teams.  He coached University of Wisconsin – Eau Claire SOL from Fall 2008 to Spring 2011, St. Paul Charter Stars in 2012, and the University of Minnesota – Ninjas to a 9th place finish at College Nationals in 2013.
Professional Life:  His only career goal was playing ultimate professionally.  This dream came true in 2013 with the Minnesota Wind Chill.
Personal:  Pat currently works as a "lab technician" for a filtration solution manufacturing company. Pat enjoys baking, Justin Timberlake, and playing with puppies.