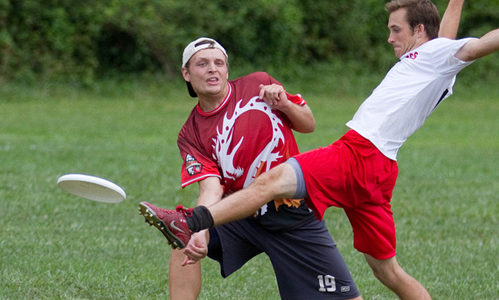 | | |
| --- | --- |
| Height | 6'1 |
| Age | 28 |
| College | University of Minnesota - Duluth |
| Hometown | Rochester, Minnesota |
---
Years On Drag'n Thrust
Bio
Pete Carr grew up in Rochester, Minnesota where he started his ultimate career.  Wednesday nights in the summer under the lights of the local community field, a hodgepodge of individuals would come together playing ultimate.  This was a very informal gathering, with little to no organization other than friends having fun.. however this hooked Pete's desire to play the game.  During high school Pete Carr participated in Varsity Tennis, however during his senior year, he decided to pursue an inter-city ultimate league alongside an internship at IBM.
College started and the intramural league only fueled Pete's desire to play the game. Junior year came around and Pete started playing with the University of Minnesota-Duluth's Northern Lights. Captained by now Drag'n Thrust teammate Jake McKean, whom became close friends during college with Pete, cultivated in Pete an unforeseen love of the sport.Pete continued his college years with influence from now Drag'n teammate Jeff Trosvig, whom spent hours throwing with Pete during the school year, then more time in the summer disc golfing and working to perfect awareness of Pete's release points and grip when throwing.In Pete's senior year, he was voted captain of the team and brought on Jay Drescher, now Drag'n teammate.
Out of college Pete took to the club scene starting his journey with Drag'n Thrust in their inaugural year (2009).  Since then Pete has been handling with consistency working the break side of the field, while helping establish a dominating side line presence with his teammates.Through the off season Pete works hard participating in programs like  Acceleration, Insanity, and working out the local gym.
Outside of ultimate Pete works as a Web Developer at DoApp and enjoys electronic music, new technology and disc golf.  In Pete's college years he composed several electronic tracks which were signed to a variety of record labels across Europe, including Sony BMG.  You can find Pete's music under his DJ Alias David  & Carr.