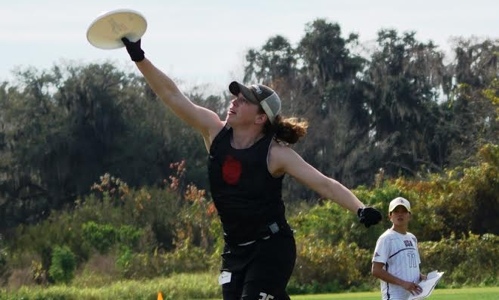 | | |
| --- | --- |
| Height | 5'8" |
| Age | 28 |
| College | Coe College |
| Hometown | Iowa City, Iowa |
---
Years On Drag'n Thrust
Bio
Sarah, never having heard of ultimate except for gym classes and a few pick-up games, played basketball and track at Coe College. There she was an All-American shot putter and a 1st team All-Conference basketball guard. Provisionally qualifying in discus, shot put, and javelin at times throughout her years, she attended track and field nationals three years for shot put and discus. She also broke school records in both shot put and discus during her years at Coe. For basketball, her career culminated in her school's first ever women's basketball conference championship and national tournament appearance, where she helped lead her team to a Sweet 16 debut in 2011.
After surviving her first ultimate experience in the Twin Cities Summer League circuit in 2012, Sarah was forced by her fiancee to use her college eligibility while in grad school at the University of Minnesota, and played with the Ninjas. Her first year on the Ninjas ended well with a Nationals appearance and a top 10 finish. The summer of 2013 she played for the Twin Cities women's team, Pop. That fall she returned to the Ninjas for her second year, as a captain. In the spring of 2014 the Ninjas placed 4th at regionals and Sarah was 1st team All-Region. In 2014 and 2015 Sarah helped bring home 2 national championships for Drag'n Thrust and in 2016 she was selected to play on the women's team at the World Ultimate and Guts Championships in London!
Off the field, in her free time, Sarah is also involved with the Pilot Programs of the Girls Ultimate Movement and is the U16 YCC Free Agent Coach. She also attends the University of Minnesota as a graduate student in the chemistry department. She 3D prints lots of cool things, and works to improve microscale separations and mass spectrometric couplings to microfluidic devices.