By Anna Hettler
This past Saturday, Drag'n Thrust had their first tournament of the 2014 season—the Surly Invite.  The tournament was played at the Blue Ribbon Pines Disc Golf Course in East Bethel, MN.  This one day event was open to all divisions in the Minneapolis area. This is the third year that our sponsor, Surly Brewing Company, has hosted the event in conjunction with a disc golf tournament at the same venue. Drag'n Thrust has won the tournament two years in a row, and was hoping to continue that streak!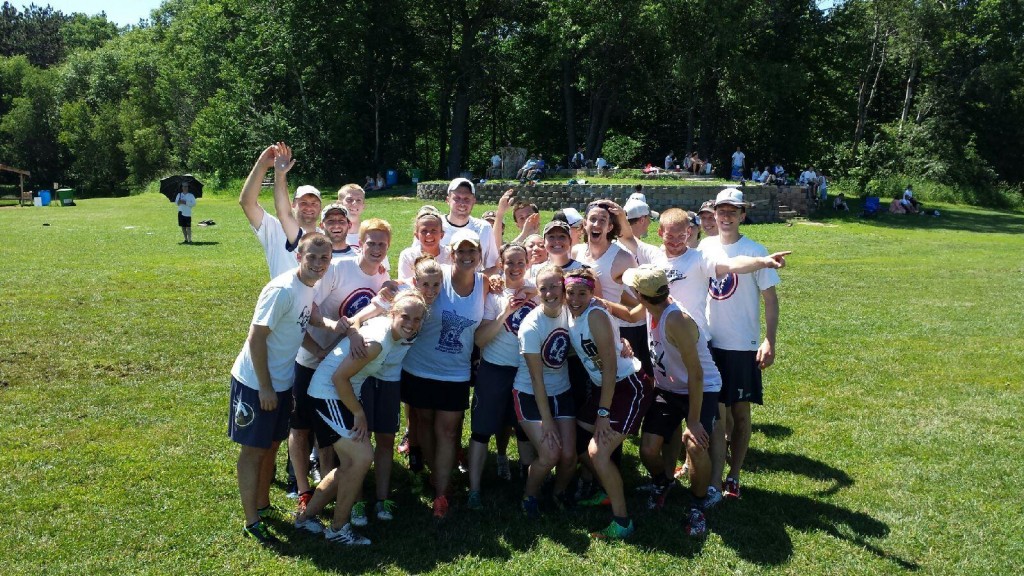 Minnesota saw several heavy rainstorms prior to the tournament, and because of this most of the fields felt more like swamps.  All teams had to deal with that difficult aspect of the tournament, cutting in mud and picking up the disc in inch-deep ponds. Bids on the field turned into slip and slides, as the teams warmed up for the day.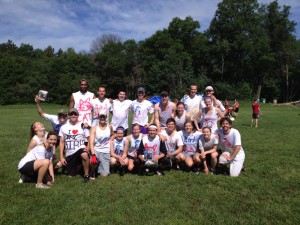 Drag'n Thrust played Bird in their first match-up of the day. This was the team that Drag'n Thrust previously lost to during the first day of regionals competition in 2013. Similar to last year, Bird used their athleticism on offense, taking frequent deep shots to the endzone. Although Drag'n Thrust was aware of this strategy, Bird played their game well and stayed close throughout. However Drag'n Thrust was able to pull out the victory, 15-10.
Up next, Drag'n Thrust played against No Touching. No Touching brought a lot of players to the tournament, and decided to split their squad to give their team more playing time. The rookies of Drag'n Thrust really began hitting their stride this game, playing well with the returning members of Drag'n Thrust by making plays on both sides of the disc. The game was highlighted by handler Tallis Boyd calling for a chest-bump from cutter "Young" Mike (Clark), and nearly crushing him as Mike flew backwards to the ground. Drag'n Thrust ended up victorious, 13-2.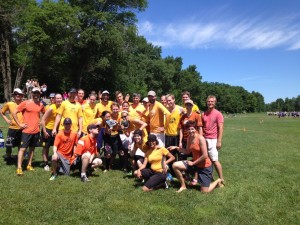 After beating the other No Touching squad in the 3rd game, it was time for Drag'n Thrust to play Minnesota Star Power (MSP). MSP began the game on fire, working through their young athletic stars to keep the disc moving and away from Drag'n Thrust's defense. At half, the score was 8-6 Drag'n Thrust. MSP was playing well, and Drag'n Thrust knew it was going to be a battle for the rest of the game. In the second half, Drag'n Thrust was able to improve their defense, and pull out a hard fought victory, 15-8.
After going 4-0, Drag'n Thrust would be fighting in the finals versus the team they played first, Bird. This game was an important test at the end of a hot day. First of all, eight men from Drag'n Thrust's roster had to leave for a Wind Chill game happening that evening. This limited the playing options on the men's side of the game for Drag'n Thrust. However this was a great opportunity for the rest of Drag'n Thrust to show their grit, and play through this fifth game of grueling ultimate.
It was hot coming into the finals. The fifth and final game of any day is tiring, and with Drag'n Thrust's limited roster the challenges were even higher. Drag'n Thrust relied heavily on a 4 woman offense throughout the entire game. The rookies, once again, stepped up big in this game grabbing discs on layouts and getting Ds. The entire team was very focused on what needed to be done. Once again Bird played well, but Drag'n Thrust was able to pull out the win, 13-9.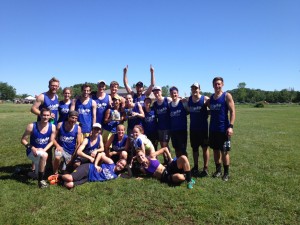 It was a great first tournament for Drag'n Thrust. After weeks of practice, it was a wonderful feeling to finally be able to compete as a team, against other opponents. The rookies stepped up huge and began filling roles on the team, and 2014 Drag'n Thrust is coming together. Robyn Wiseman was even able to make the trip, and build rapport with the roster in preparation for the World Ultimate Club Championships (WUCC) in Italy! The team looked great on Saturday, though there are things that Drag'n Thrust does need to continue to improve, as always.
Beyond winning the tournament for the third year in a row and proving our sponsorship worth to Surly Brewing Company, it was a great weekend of competition with the wider Minnesota Ultimate community. After each game, Drag'n Thrust shared tasty, protein packed, KIND Bars from our sponsor, KIND Snacks, with our opponents, as a thanks for a great game (and a way to share nutritious yumminess)!
Drag'n Thrust loves that Surly Brewing Company hosts this event for the Minnesota Ultimate teams.  In the past years, it has allowed the local teams an opportunity to compete, bond early in the season, and build the relationships within and amongst teams. This relationship, especially with Surly (the team and the company), has meant so much to Drag'n Thrust in the past, and will mean a whole lot more to Drag'n Thrust again this year as the Surly Master's team and Drag'n Thrust will both be competing at the WUCC in early August. Being able to represent Minnesota and the United States of America together overseas is a very exciting thing. Overall, it was a great event for Drag'n Thrust to learn a lot about ourselves and this tournament has made us even more hungry for the upcoming international competition at the US Open in Blaine, MN and at WUCC in Lecco, Italy!