US Open Summary: July 2-5, 2015
Thursday
Drag'n Thrust began our regular season at the US Open in Cincinnati, OH, on the weekend of July 4th. This was Drag'n's fourth consecutive invite to the US Open, but a US Open title has always been just out of reach. Drag'n opened our 2015 US Open against the team we had lost to in the 2014 US Open final, San Francisco Polar Bears. Drag'n and PBR have played many times in the last few seasons, so starting off the seaso
n against PBR seemed sort of fitting. Games started on Thursday morning, and each team was ready to prove this could be their year. The game started with the teams fighting back and forth, neither team getting ahead by more than a one point until Drag'n took half 8-6. Drag'n came out hot after half time taking the next two points as well. With a 10-6 lead it looked as if we were going to put the game away and start our tourney off with a huge win over great competition. However, PBR had some other ideas. They fought back hard, even with Drag'n up 13-10, and they clawed their way back to be tied at 14-14, game to 15. Drag'n Thrust received the disc on the last point and we were able to work it down the field for the score. All seven players on the universe point line touched the disc before Carlos Wolle found Austin Lien in the end zone to secure the win. It was a huge win to start the week, but there were many big games still to come!
The second and final game of the day on Thursday was against our Minneapolis rival, Bird. A majority of the Drag'n Thrust and Bird players had ridden down in a coach bus together, so the game was expected to be very spirited and well fought. We were not disappointed. Bird came out hard trying to prove they were able to hang with Drag'n and we traded points until 5-5. Bird had a few players make some great defensive plays in the first half, but Drag'n Thrust proved we can make big plays on defense too. Drag'n found a new gear on a three point run to take an 8-5 halftime lead. Mike Clark (who played for Bird two years ago) had a very strong game for Drag'n, helping to continuously initiate the offense and force Bird to worry about where he was on the field at all times. We were able to fight hard through the second half and took the game 14-9. It was great to get to compete against Bird and have them at such a prestigious tournament! The Minneapolis Mixed scene is on the rise, and Bird did a fantastic job of helping to showcase just how deep the talent is in the Twin Cities.
Friday
Our first game on Friday was against an unknown team from Australia: Ellipsis. At the beginning of the tournament,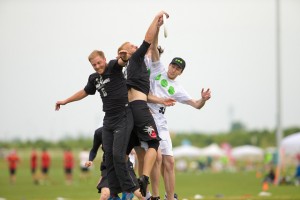 nobody knew how Ellipsis was going to perform. They were compiled of the 'best of the best' from the land down under and scouting on the team/players proved sparse. Drag'n felt lucky that we knew not to overlook Ellipsis, as we had results from Ellipsis' matches earlier the day before. We were impressed, to say the least! The game started off with Ellipsis breaking the Drag'n o-line for a quick score. Points were traded to 5-6, when Ellipsis created their second break of the game. Drag'n broke back twice to make it 7-7, but could not hold off Ellipsis' efficient offense and went down at half, 7-8. The Australians came out hot in the second half and effectively used their athleticism to go up 14-11.  Through grit and determination, and without defenders Jay Drescher and David Shirley (both injured late in the first half), Drag'n pulled the game back into reach at 14-14 through a couple marathon points. Unfortunately for us, Ellipsis regained their flow and finalized the game at 15-14. Ellipsis truly had an amazing performance, and we were honored to play against this caliber of an international team. Rarely do teams outplay the ladies of Drag'n, but the Ellipsis women gave them a run for their money and proved why they were ultimately selected as winners of the spirit award. This is a great sign that international teams are leveling the ground in the mixed division and will only continue to grow and challenge the historic domination of the USA in international competitions.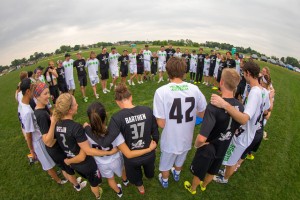 In Drag'n Thrust's second game on Friday, we were matched up against San Francisco's American BBQ. Having to face Drag'n after we suffer a loss rarely works out in a team's favor and this game was no different. Drag'n came out to play in this game and took advantage of BBQ's miscues to take an 8-3 lead at half. BBQ played much more aggressively in the second half and were able to execute better than they had in the first half, but Drag'n still proved to be too much, taking the game 15-8. This was the definition of a team game, as 21 of the 24 players who played in the game recorded either an assist or a goal. This is such an unbelievable showing of how deep into our roster Drag'n Thrust plays, as well as how strong the roster is from top to bottom. It was a great win, but there was still work to do in order to stamp our ticket to semifinals.
Drag'n Thrust played Boston Wildcard to end our pool play rounds. Wildcard is a team who had always given us trouble as they are a young, athletic group of individuals. This game was extremely important for both teams; winner makes semifinals, loser plays in placement games. Both teams came out strong, basically trading back and forth until 4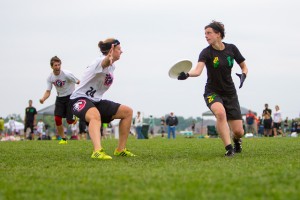 -4. Drag'n then was able to turn up the intensity on defense and ran off four straight points to take half 8-4. However, the momentum Drag'n had built to end the half was no longer there as Wildcard came out stronger in the second half. Drag'n had a few more miscues, but did a good job of recovering and taking advantage of matchups when they were there. The team was led by Sarah Meckstroth and Sarah Anciaux all game, but especially in the second half, and we were able to put the game away 15-10. These two ladies played fantastic throughout the weekend, but really stepped it up when Drag'n needed them to help us qualify for semifinals against Seattle Mixtape in a rematch of last year's national finals.
Saturday: Semifinals
In the Semifinals, a rematch of last year's National Championship, Drag'n was excited to compete against the gun slinging, free shooting and athletic Seattle Mixtape. Based on historic competition between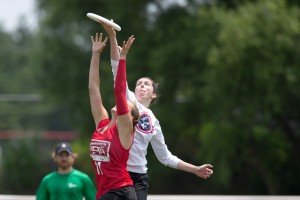 the two teams, Drag'n undoubtedly had the upper hand and as long as they played their game, would come out on top. But within the early stages of the tournament Seattle proved that last years Nationals finish was not a fluke. All the hype of the game got Drag'n pumped up early and we came out strong, scoring first and trying to set the precedent for the rest of the game. This did not last long as it became quite apparent that Seattle was not about to back down and Drag'n started to look flat. The normal control and execution that Drag'n had been known for was gone and Drag'n uncharacteristically seemed to adapt Seattle's flashy huck and hope style of play. This did not bode well for Drag'n as we ended up down at half 7-8. The second half started out no different, with Seattle taking the first two points effo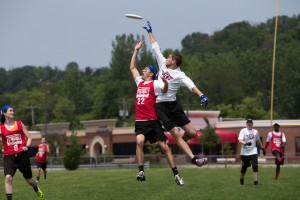 rtlessly. A much needed time out and pep talk halted Seattle's momentum and the tides started to turn. The Drag'n D found renewed energy and some great defensive plays by Strings, Vandy, Baken and Regan put Drag'n up 13-12. Unfortunately runs can only go on so long, and Seattle was able to tie it up at 14-14. The last two points, both emotional with possession changes, were capitalized on by Seattle for the win. While the game was tough and ended our bid at a US Open Championship, Drag'n took away many positives from this game and the tournament as a whole.
Of course, Drag'n was curious to see how the Rookies would do this weekend, as the US Open was the first high-pressure tournament with everybody active. To say the least, our Rookies did not disappoint:
Carlos made a strong argument for rookie of the tournament through his ability to step up on the 0-line and ball out. Carlos scored numerous goals and proved to be nearly impossible to shut down.
Baker made a strong argument for "anti-rookie of the year", as he was unable to make the trip to the tournament! He also used to be a Drag'n, so can he still be called a rookie?
George played amazing shut down D on some of the opponent's top cutters all weekend. George used to be a Drag'n player (in its second year), so maybe she shouldn't be eligible here either…
Vandy showed off his insane athletic ability with some CRAZY Ds when the games were tight.
Meredith excelled at being SUPER consistent and reliable. We are so glad to have her in our handler sets.
Sierra used her athleticism and keen field awareness to take advantage of opportunities on and off the disc all weekend. She really proved her worth when she got the disc in her hands and someone was cutting deep!
Drag'n Thrust had another great experience at the US Open, and despite once again not coming away victorious we left the tournament very confident about where this season may go. We still have lots to work on and learn, but luckily there is still a lot of season left! Drag'n Thrust next plays at MUDI in Minneapolis July 18-19 where we will compete against many of the teams they could be seeing at North Central Regionals this fall. Keep your eyes open to see how MUDI goes for Drag'n and for updates on the rest of the season!!