Pool Play:
We were happy to make the short  4+ hour journey to Appleton only to be greeted by a swanky Country Inn and Suites (hereafter known as Swank Palace)! No, we're not joking. There was a free happy hour (every day from 5 – 7 pm), a comfort dome (complete with hot tub, pool, water slide, ping pong table, and arcade), two libraries, and a complete complementary breakfast. Amazing!
Now, to Frisbee (for some reason we think this is the more important part).
Drag'n Thrust's first game Saturday morning was against Mad Udderburn. Even before the game we were down a few players due to injuries and life, such as Mikey Petersen (aka Dad, Pops, Father) who had just celebrated the arrival of his second child and had other duties to attend to on Saturday. Right off the bat, Mad Udderburn's lack of cow-spotted shorts took us by surprise (but really, they've had them for years!). Yet that didn't stop us from coming out strong against a team that clearly had a lot of fire. We took half 8-3 and never looked back. We knew that they had a lot of drive left when they used a speakerphone and a recording of a cow mooing as their call to battle. However, even that did not faze us. The game ended 15-6 with all of the Dragns knowing that we had more to give.
We then played Mojo Jojojojo, a team filled with friends and familiar faces. It was clear that they had a lot of chemistry. We came out ready to play and were able to take half 8-2. Mojo Jojojojojojojojojo scored a few more points during the second half, but we ended the game 15-6. A highlight of the game was Mojo Jojojojojojojojojojojojojojojojo's super baller female cutter, who was tearing it up and came down with everything thrown her way!
Our next game was against Thoroughbred, who, as much as their cheers (TB!) made it sound, were not representing an infectious disease (tuberculosis). We immediately noticed how athletic they were and it was necessary for us to match that. We started with a Callahan by SK Anciaux the first point of the game (because, you know, we figured it would be easier to score without the possession of the disc after turning it over a few times). We ended up taking half 8-4.  After trading several points, Austin Lien got a second Callahan (How did our O-line get both of them? Do we even need D-line?)! We went on to finish the game 15-9 to take our pool and send us into the crossover against the winner of Pool D.
The last game of Saturday was against the Minneapolis Millers. This was a team full of more familiar faces and friends. The game started with an atmosphere of intense competition, with the Millers going up 3-2. We got a few breaks and pulled ahead to take half 8-5. Even though we got pretty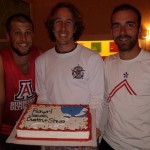 distracted by the cool design on their jerseys (they're pretty sweet if it wasn't clear enough), we kept up our intensity and took the game 15-8.
We arrived back at the Swank Palace in time for the free happy hour and to celebrate Jacob, Dustin, and Shwa's birthdays with a delicious DQ ice cream cake. Yum!

Bracket Play:
The next morning we were sad to leave the comforts of the Swank Palace. On the other hand, we were happy to get back on the field for our first game of the day, Quarterfinals against Panic.  After a good warm up we came out fired up and broke twice in the first three points to go up 3-0. We were really surprised we didn't panic (hehe, see what we did there???) with the disc in our hands. We took half 8-4. Panic made several great deep shots early in the second half, and despite our urge to run in circles yelling with our hands in the air, Drag's won the game 15-7.
Our next game was Semifinals, the first game to go to Nationals.  We played against Noise who were actually yelling with their hands up in the air! Drag'n came out hot and fiery (although significantly quieter than Noise) and went up 5-1. Noise tried to claw their way back, but they couldn't get a good hold of our slippery scales and we took the game 15-5. We had secured our spot at Nationals!!
After a brief break filled with wishing wells (courtesy of Thrivent Financial), KIND bars, admiring our VC jerseys, and guarding our horde of treasure (Surly), we played against our common regional foes CLX (based on their jerseys we now think it stands for Cats Love X-rays). Both teams had already qualified for nationals and were now playing for the regional championship. The game started close and was tied 3-3, but after a series of breaks Drag'n took half 8-4. The second half continued as the first ended, and we finished the game out and won 15-8! Regional Champions!
Highlights of the Weekend:
Swank Palace

Beautiful weather

Two Callahans

Swank Palace

The observance of the passage of time in Jacob's, Dustin's, and Shwa's lives (aka birthdays)

Free happy hour (did we say the Swank Palace?)

Dad's arrival Saturday evening (who are we referring to?)

A chance to compete against new and old faces alike

Taking the Regional Championship

Swank Palace
See you in Frisco,
Clarq and Regan